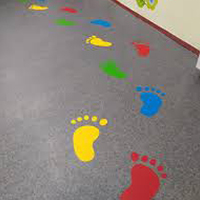 Floor Graphics
Floor graphics are commonly used for floor signage, decals and point of sale advertising in retail, commercial and warehouse environments. They are also important for providing direction or pointing out safety requirements in commercial environments.

Decals Solutions offers durable vinyl floor graphics of almost any size or shape and can be printed digitally or screen-printed.

 •At only 3.5 millimeters thick, they are thin enough to avoid any impediment to cart and wheelchair traffic.
 •Can be applied inside or outside to any floor, street, driveway or sidewalk.
 •Available in either 1 month or 6 month durability for indoor or outdoor use.
 •Floor graphics are also skid-proof to ensure the safety of your patrons.