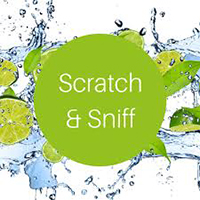 Scratch & Sniff
Scratch and sniff decals are items that have been treated with a fragrant coating. When scratched, the coating releases a scent that is related to the image displayed under the coating. This type of interactive product is typically used in advertizing and promotions and is a unique method of creating interest in your product and getting your products noticed.

 •Unlimited scents available
 •Can be printed on was wide variety of materials
 •Makes your product interactive and a more effective selling tool.