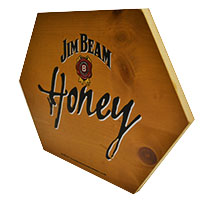 Signs
Decal Solutions offers a wide variety of sign printing options to promote your business. Since we can print our full color custom digital signs on site, we offer a quick turnaround with extremely high quality. We can print full color graphics and can assist in design when necessary.

Our signs can be printed on plastic, wood, or metal for a variety of uses including in-store, yard signs, or hanging signs.

 •¼" Chloroplast
 •½" Chloroplast
 •Di Bond
 •Aluminum
 •Stainless steel
 •Reflective metal
 •Wood
 •Portable step and repeat backdrop stands

We also offer a variety of printing techniques to maximize the exposure to your business, including florescent colors and reflective finishes.
More Images