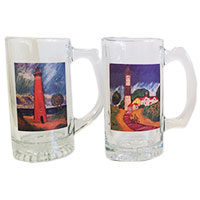 Glass Decals 1,170 F
Decal Solutions is a water slide graphic expert. Our water slide glass fired decals are dishwasher safe and can be used in restaurants, coffee shops and bars.

These decals can be printed using spot colors for our 133 line half tone printing system. Glass fired decals can be fired between 1,100 F and 1,180 F. using either low lead or lead free pigments. Low lead pigments offer the best color pallet and best durability. Lead free pigments will meet the California Prop. 65 requirements.

More Images